How to recognize the best media player software?
Some PCs come preloaded with feature-laden media player software, but others have mediocre software bundles, if any, that simply aren't up to par, which is a good reason to start scouting for alternatives . The best media player on the market should be compatible with state-of-the-art devices, it should support and enhance optical media and generally offer advanced features, but still be easy on the consumer's pocketbook. Check the new Cyberlink PowerDVD 14 – download the free trial and take advantage of our great discount offer.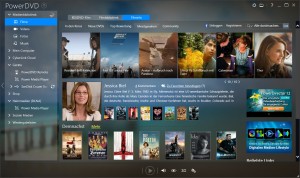 Media player software generally comes in handy when you're looking for simple video playback, but you could infinitely enhance your viewing experience by streaming to high resolution devices, using portable devices in lieu of remotes and enjoying surround sound performances, and the best media players on the market will generally display a few of these cutting-edge attributes.
The ultimate all-in-one multimedia solution should be able to tick most of these boxes, if not all of them, but they're certainly not comprehensive and they don't intend to undermine your personal preferences:
It can be played on a multitude of devices and it should play back files on your PC or stream from general entertainment platforms, connected devices and network locations. That way, your Android, Windows, DLNA and iOS operated PC, tablet, TV and Smartphone can converge to give you continuous access to media. The ultimate media player should allow you to control and render content remotely, so that your Smartphone, for instance, browses through the desired content, but another device, such as your TV, plays it.
It renders films, images, music and clips seamlessly, whatever their format. Blue-ray discs in 2D and 3D should be your main priority considering how fast technology is evolving, along with HD 4K video, popular film and music formats, such as MKV, MP3, MPEG-2 and FLAC, slideshows with pan and zoom functionality and RAW slideshows, AVCHD content and popular social networking formats.
It is user-friendly and easy to navigate, with intuitive, engaging controls and appealing display. Basic functions such as space bar pause and play, hidden controls during playback, arrow keys for navigation and speed navigator are things that no media player should be without. The very best software will let you customise display and control options.
It plays MKV files. High-quality playback from files is just as important as from disc, which is why you should be on the lookout for MKV playing software that auto loads subtitles, displays scene thumbnails, moves between the different chapters and resumes playback. Subtitle editing and personalised display for MKV files are a plus. For your bilingual enjoyment, try a media player that displays two subtitles simultaneously.
It stores your files on the Cloud. Cloud storage and download feature is something that could prove extremely useful. To begin with, you create a collection of films and shows that you can watch on any connected device, and that you know are safe and available at any time.
It has those basic features that you couldn't do without: playlists for music, videos and photos, minimized player, cinema mode, movie library with online movie info, file conversion and synchronization with basic devices, social media connection, and online store.
It comes with supporting apps that allow you to stream content instantly from any device and also use some devices as remote controls for others. These apps should be versatile, allowing you to use them with different operating systems and they should allow you to connect to several networks from various locations and devices. The best remote apps link a remote device to social network apps on your displaying device. They should allow you to type, move a cursor on the controlled device and generally navigate through the files with ease. Some mobile apps will allow you to download and convert videos that stream in PC format into iOS compatible format, which means you can download the files on your tablet via home media server for use at any time.
It has sound and visual enhancements that do films justice. You're looking for a player with smooth motion, realistic lighting and contrast with minimal shot noise, brilliant colours that don't tire the eyes, sharp detail, image stabilizer and seamless switching between formats and display size. In terms of sound, best media player should offer you theatre-style stereo output. Additionally, you should be able to turn images, videos and 2D films into 3D format and video to HD quality should be unrivalled.
It should come with reasonable pricing, although you should expect to pay more than you would for a mid-range media player. Compare between others and this software package, including extras, tutorials, bonus content, free apps, storage facilities, reputation, customer service, compatibility with your existing devices, future versions and upgrade discounts, informed reviews on the software and developer and your personal tastes and objectives. They should all help guide you to the product that is the best money can buy, as long as it is within budget, of course.
Generally speaking, you should be able to identify top-of-the-line consumer media player software easily. If you find a product that is powerful, comprehensive, easy to use, with a visually appealing interface and an engaging range of options, which is compatible with the latest software platforms and comes with extra features like remote-control apps and free players, and comes with appropriate support services, you've probably found yourself a crackerjack. Discover Cyberlink PowerDVD 14 – the media player that meets all your expectations. Get the the free trial download of Cyberlink PowerDVD 14 and take advantage of our discount offer.
Cyberlink is an Asian multimedia software vendor with Headquarters in Taipei and branch offices on all continents. It provides video editors, video players with DVD and Blu-ray support, video converters, authoring software, burning software and photo editing software.